.
Celebrations That Honor the Living
If you looking for a special way to recognize your loved one,
why not consider a LIVING Celebration of Life Ceremony.
.
.
.
.
"PLEASE FEEL FREE TO POST AND VIEW COMMENTS"
.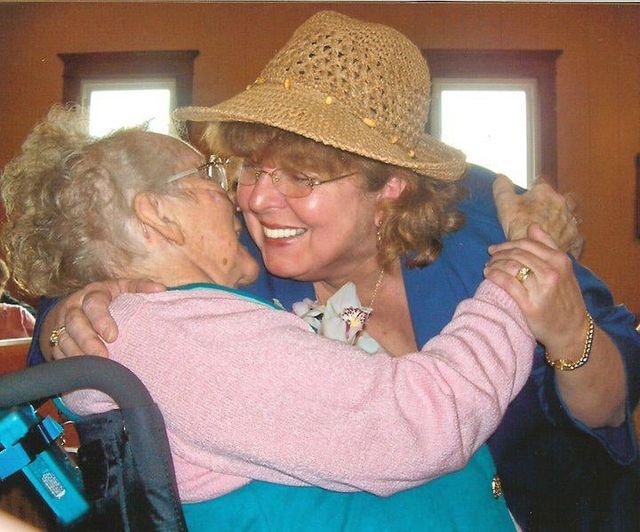 We often hear older folks say, "Give me my flowers while I'm living" or "Give me my flowers while I can still smell them." We sometimes take that literally, but in my heart, I don't believe they are talking about actual flowers at all.
.
To truly give your loved ones "flowers" while they are still living looks like telling them how much you love them every day, spending time with them, making sure they know that they are loved and telling them the good things about themselves.
.
I have determined to try harder to give my family and loved ones their "flowers" while they are still living. I'll call more, I'll spend more time with them, I will cherish every single moment. And I challenge you to do the same.
.
I am now offering Personalized Celebration of Life Services for the LIVING!
.
That's right. These are not Funeral Services. They are Celebration of Life Services for those who hold a valued place in your heart, to let your loved ones know how important they are and that their life matters... while they are still LIVING. The purpose of these services is to present a truthful sense of their lives, inspire gratitude, and aid in forgiveness and reconnection among family and friends.
.
Ecclesiastes 7:2 tells us "Death is the destiny of everyone; the living should take this to heart." But oh how often we miss the opportunity to let people know what they mean to us while we still have the opportunity. Death to our loved ones, and yes, even ourselves, can come knocking at any time and we only have a certain amount of time in life to live and love well.
Let me encourage you to give your relatives and friends their flowers while they are still alive. It will mean a lot to them and provide memories that you will always treasure.
.
It would be my great honor to write a ceremony that highlights your loved one's life. If I can help you, please feel free to contact me at FaithAglow@aol.com or by phone at (304) 472-0296.
.
.
.
.
.
.
.
.
FEES
Fees are structured to support time dedicated to writing and designing your loved one's ceremony. I custom-write each and every one and no two are ever alike. This means that your loved one's ceremony will be one of a kind, totally unique to you and your family and there will never be another one exactly like it. Factors in determining the cost of your ceremony will include meeting time and travel, as well as time to write and officiate your ceremony.
.
The fees are usually as stated on this page, but since every ceremony is unique, please e-mail me for a quote. Please be assured that all fees will be discused openly and agreed upon prior to booking and there will be no hidden charges. Additional services, such as travel beyond a certain distance from my office may be extra.
.
STANDARD CEREMONY - $200 Plus Mileage
This is a Heartwarming Love-Inspired Ceremony that can include friends and family members or anyone else that you might like to make a special part of your loved one's celebration. If you have special readings or poems that you would like to incorporate into the ceremony, we can certainly do that, and if you or other family members would like to speak a blessing over your loved one's life, that would be a wonderful addition. It would be my pleasure to honor your loved one with a special ceremony and I look forward to the opportunity of making it a memorable celebration. You will receive a copy of your ceremony as well as a Certificate commemorating the occasion.
.
PERSONALIZED CEREMONY - $400 Plus Mileage
Many people like to include family traditions and customs into their loved one's ceremony and this is always a wonderful option. It offers a sense of tradition, heritage and is a great way to honor and pass down cultural elements of importance to your family. You may choose to include readings or poems that hold special meaning and you might also choose to speak blessings over your loved one as a way of expressing your love and dedication. This event will be one that your loved one and entire family will remember for the rest of their lives, and my goal is to make it special in every way. You will receive a copy of your loved one's ceremony as well as a Certificate commemorating the occasion.
.
** I travel to various states and locations to perform life-event ceremonies so it is not feasible to set one standard rate that includes travel. Therefore, mileage, as well as air and lodging (if required), will be added to the above stated prices.
TRAVEL COST:
Mileage and time spent traveling to and from your venue location will be added to all packages. Lodging costs will also be added if destination is beyond two hours driving distance from home office in Buckhannon, West Virginia. ** Costs of air travel, if required, as well as round-trip mileage from home office to Pittsburgh International Airport will be provided by the couple.

.
.
.
.
.
.
BOOKING AND REFUND POLICY:

I officiate all of my own ceremonies and take great pride in the fact that each and every one is delivered with "heart" and "passion". Booking is first come, first serve and dates will be held with a 50% NONREFUNDABLE deposit with final payment being due two weeks prior to the ceremony. If by chance you find it necessary to change the date of your ceremony, your event may be rescheduled, with all monies being fully transferrable to the new date, provided that my schedule permits me to officiiate your ceremony at that time.
METHOD OF PAYMENT:
PayPal, Check or Money Order
.
.
LET ME HELP TURN YOUR LOVED ONE'S DAY INTO A TREASURED MEMORY.
.
.
I LOOK FORWARD TO SURPASSING YOUR EXPECTATIONS.
.
.
.
.
OTHER SERVICES
.
I also perform House Blessings, Celebration of Life Services, Christenings, Baby Naming Ceremonies and other life event services. Contact me and let me know what your needs are and I will be in touch.