.
.
.
Lisa Dodd Stanley

WDTV Television - Bridgeport, West Virginia

"I met Pam Powers Moore while she was a guest speaker for the After 5 Christian Womens Club otherwise known as Stonecroft Ministries. While listening to her speak, I felt that we had alot in common through our life struggles as well as the ability to overcome any obstacle thrown our way. Not only can Pam bring a crowd to their feet with her wonderful words of wisdom but she also has an amazing voice to go along with it. She is now involved in so many areas of the ministry to where she also performs wedding ceremonies as well as public speaking. If you have not yet met Pam, then you need to read the book she has written as it will bring forth a great deal of inspiration. She is reachable at almost any time and willing to talk or pray with you as needed. She knows what her purpose is in life and she is doing it!"
.
"What if, when you woke up and opened your eyes each morning, you knew that you were loved... truly loved... not because of what you do, but because of who you are? And what if you knew that no matter how many times you messed up, no matter how many times you failed, that someone still thought you were absolutely 'spectacular' and would never ever leave you?" ~ Pam
.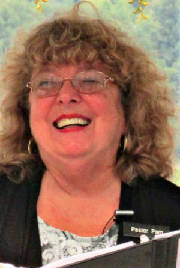 Photography Courtesy of Jimmy R. Clark, II
.
.
.
.
CLICK ON THE PICTURE TO THE LEFT TO VIEW A VIDEO OF PAM SPEAKING.

.
Need a "Down To Earth" Love Inspired Speaker/ Vocalist for your special event?
..
Sail with Pam on a journey of God's Love as you experience "A Capsized Boat Makes It To Shore". Reserve your seat, set your sails, and enjoy the ride as Pam takes you on a 'dynamic' musical voyage of enduring faith and endless love. With Christ as Captain and God at the Helm, Pam will share her 'riveting' story of how God, with His grace and 'amazing' love guided her through the hurricane-force storms in her marriage to a peaceful shore of joy and happiness.
.
Pam is Available to Speak on Topics of YOUR Choosing as well as Dynamic Renderings of Faith, Inspiration and Down-Home Encouragement
For Availability and Booking Information Please Contact Pam at (304) 472-0296
.
.
.
.
.
.
..
.
.
.
.
BASIS FOR SPEAKING:
.
"Teach with your life by your word, demeanor, love, faith and integrity". ~ 1 Timothy 4:12.
.
.
MODE OF SPEAKING:
.
My mode of speaking has been described as "unique", "refreshing", "down to earth" and "real". I share my own life experiences in such a way that you can identify and realize that even though our problems may be different, we all have them, and faith in God is the key factor in turning our tears to joy. I am confident in my approach, strong in my faith, and able to gently relate to people at every level. I speak about what I know... the love of God... and I share it with tenderness and heart-felt conviction, in the way I know best... from my HEART !
.
I like to take my time, mingle with the crowd and become acquainted with the people with whom I will be speaking. If I am doing more than a one day speaking engagement at one location, I like to begin with my testimony on Day 1 and then proceed to other requested topics on the days that follow.
..
VENUE:
.
I am available for singing and/or speaking engagements for your church, seminar, conference or other special event; as well as organizational, civic and social functions. I also speak for youth groups, women's groups, retreats, workshops, ladies luncheons, marriage enrichment seminars and women's ministry conferences. I am also available for nursing home, rehabilitation home and hospital ministries. I enjoy sharing musical presentations in which I incorporate relevant music into the subject matter I am addressing. My talks are not "canned" and each one comes from the heart as I speak with passion about what I know in my heart to be true. I can prepare and deliver a presentation on your topic of interest and can coordinate my musical selections to fit the same. Feel free to contact me with your needs and any questions you may have..
.
I am also a Wedding Officiant and am happy to offer customized wedding services with a personal touch to make YOUR day special. .
.
...
FEES:
.
Fees for Church Services are always on a love offering basis.
Fees for Seminars and Conferences are based upon the length of talk, location and duration of event.
Please call for availability and booking information.
.
..
WHAT PEOPLE ARE SAYING:
.
"A refreshing, transparent testimony given humbly along with beautiful words given in song. May God's blessings flow in the hearts of all who heard and received Him". ~ Patricia, Woodbridge, Virginia
.
.
"Pam is a powerful speaker whose heart is geared for bridging the gap between people and God through the truth of Jesus Christ. I recommend her because of her integrity and her effectiveness as a Stonecroft speaker." ~ Tempe Brown, Tempe Brown Ministries
.
.
"Great speaker and music. The Spirit of God was so near!" ~ Virginia, Warrenton, Virginia
.
.
"What a testimony! This message touched my heart deeply - It is hard to let go and let God - Thank you for your story! We are blessed!" ~ Julie, Front Royal, Virginia
.
.
"Excellent speaker. We got two for one --- a ministry of testimony and musical praise". ~ Teresa, Wytheville, Virginia
.
.

"Pam, Thank you for coming and sharing your many God-given gifts. Your words are encouragement to all of us in this journey through life". ~ Richmond, Virginia Women's Connection
.
.
"Pam, Thank you so much for coming to Petersburg to speak to us this week. Your testimony was a moving revelation of what God has done in your life and what He promises for ours". ~ Shirley, Petersburg, Virginia After-5
.
.
"Thank you for sharing your testimony. We each have problems in our lives and you have brought the gifts of God's hope and love". ~ Mary, Dinwitty, Virginia
.
..
"Pam, on behalf of the Clarksburg-Bridgeport After 5, I want to thank you for your testimony which you presented to our Club on March 15th. You touched many women that evening. Not only did you have a decision made, many women expressed the desire to grow in their faith. You truly have a gift". ~ Carol, Clarksburg, West Virginia
.
.
"Beautiful voice... Great witness". ~ V.K., DuBois, Pennsylvania
.
.
"Pam, Thank you for coming from West Virginia to be our speaker and music at Altoona After 5 Women' Connection. You have a very "unique" story to share and a "lovely" voice that is sweet to the ear. I came home last night and put on your CD. It will give me many hours of listening pleasure. The words of the songs are uplifting. God is so good all the time. Only He could have kept you all your years of pain and shed tears". ~ M.A., Altoona, Pennsylvania
.
...
"Wonderful Testimony.... Sail On !!!" ~ N.H., Altoona, Pennsylvania
.
.
"Excellent Speaker. Down to Earth and refreshing!" ~ P.G., Johnstown, Pennsylvania
.
.
"Speaker was very sincere and a lovely child of God". ~ M.C., Salem, West Virginia
..
..
"Presentation was well done, very thoughtful, and music was beautiful". ~ M.W., Parkersburg, West Virginia
.
.
"A very good speaker. I liked how she incorporated songs into her speaking". ~ P.G., DuBois, Pennsylvania
.
.
"Thank you for your transparency in sharing your life's story. You are touching others' lives with your story of the Love of Christ". ~ D.M., Charleston, West Virginia

..
.
"Pam, what a testimony the Lord has given you. And WHAT a voice. I loved your songs, especially God on The Mountain". ~ K.W., Johnstown, Pennsylvania
..
.
"Very real and honest, and that allows God to shine through". ~ P.M., Richmond, Virginia
.
.
.
I LOOK FORWARD TO SURPASSING YOUR EXPECTATIONS!!!

.
.
Beverly Wilson ~ Springfield, Virginia


"Pam is a gifted - gift to us from our Lord. Thank you Pam for unzipping the flesh on your outside and showing us what God has placed on your inside. God Bless You.!"