.

# WACD01
Walkin' With My Lord CD - $15.00
.

Walkin' With My Lord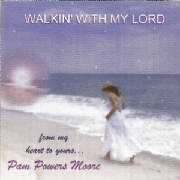 Copyright 2008
.
1. ALABASTER BOX
2. GOD SPEAKING
3. HIS STRENGTH IS PERFECT
4. GOD ON THE MOUNTAIN
5. IN CHRIST ALONE
6. SO MUCH TO THANK HIM FOR
7. THANK YOU
8. FOOTSTEPS WALKIN' WITH ME
9. LOVE'S SONG
10. THE OLD RUGGED CROSS
11. YOU'LL NEVER THIRST
12. THE PROMISE
13. FOOTPRINTS IN THE SAND
.
.
.
.
.
.
It is with great pleasure that I present "Walkin' With My Lord". He walks with me every step of the way and when I can't put one foot in front of the other, He carries me. "His strength is perfect", and when I grow weary, He is still going strong. In the most troublesome times of our life we can hear "God Speaking" to us if we only listen with our hearts and "In Christ Alone" can we find true strength. He can fill us up to overflowing and through Him, we "Never Thirst Again".

I am happy to include "Love's Song", as part of this CD, in honor of the "love of my life", my closest, dearest friend this side of Heaven. It is with sincere pleasure that I dedicate this song and CD to him, not only for who he is, but because of his influence in my life and the encouragement he gives. He is truly the "wind beneath my wings" and one of my most cherished blessings.
.
"Walkin' With My Lord" includes thirteen (13) songs some of which include southern gospel, traditional old-time gospel, praise and worship, and contemporary gospel. From "God On The Mountain" to "Footsteps Walkin' With Me", this CD is guaranteed to please.
.
Credits: Background Vocals: Pam Powers Moore ~ Guitar and Keyboard: Seth Maynard ~ Percussion: Joel Franks ~ Piano: Denny Franks. Graphics: Corbis and FotoSearch



RESPONSE TO "WALKIN' WITH MY LORD" HAS BEEN TREMENDOUS !!
Order your copy of "Walkin' With My Lord" today.
.




To purchase Walkin' With My Lord using your credit card or personal checking account, please click on the link directly above the description for this item. If you would prefer to pay by cash, check or money order, please print the Order Form provided under Products and Ordering Information, and mail along with your payment to Pam Powers Moore, Sweet Song Ministries, P.O. Box 1181, Buckhannon, WV 26201-1181. All prices include Shipping and Handling.

All orders will be processed and shipped within 24 hours of receipt of your payment. Please feel free to contact me with any questions you may have.